About From Mug to Mike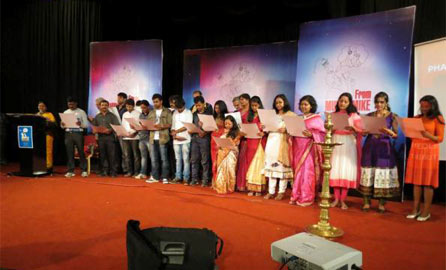 From Mug to Mike -  A Pioneering Initiative for Bathroom Singers
From Mug to Mike is a pioneering initiative and the response has been absolutely overwhelming! Sunil Koshy, a techie and trained singer is the trainer and creator of the workshop. Sunil Koshy and his wife, Archana Hallikeri, who is also a techie, have been designing and conducting these workshops, opening a new world of endless opportunities for bathroom singers.
'From Mug to Mike' - How did the concept evolve?
The concept is inspired by the millions who simply love singing, for those who would like to graduate from mug to mike, but just don't have the nerve to! This workshop is designed keeping in mind the many people who just love to sing at office parties or other gatherings(and mostly film songs), though they have never had the opportunity or time to learn music formally. The main highlight of this workshop is that each participant gets to record his or her voice in a high end studio, a truly unique experience for the bathroom singer! Also, a detailed and critical analysis of the participant's singing – his/her strengths and areas for improvement will be given. Other highlights are that this workshop provides on a platter the basics of traditional training and also tips and tricks of singing, including voice culture, studio singing and other nuances of film singing, that are not taught usually in traditional music systems. Many myths and misconceptions about singing and learning music will also be busted. This workshop will also help one understand the reason behind stage fright and how to overcome it, once and for all!
Workshop Evolution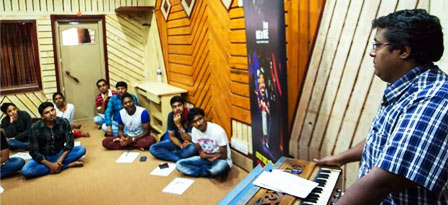 The journey for these people started with the primer workshop, where they came out of their bathrooms and straight into the recording studio. They recorded for the first time ever in a high end studio, and also discovered secrets of professional singing. They were given a detailed analysis of their singing, their strengths and improvement areas. Advanced workshops are conducted, which give them vocal exercises to work on their improvement areas effectively and quickly. The workshops have been happening in Bangalore, Chennai, Kochi and Trivandrum.
Cutting across age, backgrounds and geographies
Singers from Pune, Chennai, Trivandrum and other places in Karnataka including Mysore, Shimoga, Hubli, Belgaum, and other cities have been attending the workshops, and people of ages ranging from 5 to 80. Started in April 2013, we have had over 2000 participants attend our workshops. More than 100 workshops have been conducted including the different levels.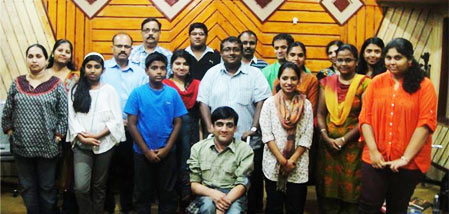 With the increasing popularity of the workshop, Sunil Koshy is ready to conduct similar workshops in different cities in India. 'Interested people have also been contacting us from other cities in India and abroad too, London, Germany, US, Dubai and other countries, and we are certain to cater to bathroom singers globally, soon!' adds Sunil Koshy. 'From Mug to Mike' is the biggest revolution of bathroom singers, where bathroom singers decided that they will no longer remain just bathroom singers! There are 3 levels of the workshop before one can go on stage – Primer, Advanced and Stage Show Preparatory workshops. We have conducted 3 Seasons, which includes 5 stage shows, and other shows celebrating World Music Day, Vijayadashami and online auditions inviting bathroom singers all over the globe.