About us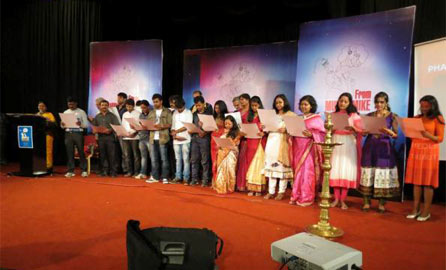 From Mug to Mike -  A Pioneering Initiative for Bathroom Singers
From Mug to Mike is a pioneering initiative and the response has been absolutely overwhelming! Sunil Koshy, a techie and trained singer is the trainer and creator of the workshop. Sunil Koshy and his wife, Archana Hallikeri, who is also a techie, have been designing and conducting these workshops, opening a new world of endless opportunities for bathroom singers.
'From Mug to Mike' - How did the concept evolve?
The concept is inspired by the millions who simply love singing, for those who would like to graduate from mug to mike, but just don't have the nerve to! This workshop is designed keeping in mind the many people who just love to sing at office parties or other gatherings(and mostly film songs), though they have never had the opportunity or time to learn music formally. The main highlight of this workshop is that each participant gets to record his or her voice in a high end studio, a truly unique experience for the bathroom singer! Also, a detailed and critical analysis of the participant's singing – his/her strengths and areas for improvement will be given. Other highlights are that this workshop provides on a platter the basics of traditional training and also tips and tricks of singing, including voice culture, studio singing and other nuances of film singing, that are not taught usually in traditional music systems. Many myths and misconceptions about singing and learning music will also be busted. This workshop will also help one understand the reason behind stage fright and how to overcome it, once and for all!