SUNIL KOSHY
co-founders,
From Mug To Mike
The common thread that binds us, is music. And the belief that learning music must be accessible to all. We are also married to each other!
Hi, I'm Sunil Koshy. I'm a techie-turned-musician. And here's a quick introduction to my journey from sitting at the keyboard to singing with the harmonium.
I was learning from RR Keshavamurthy Sir, one of the senior most Carnatic musicians, but as a busy employee at a top IT company, I hardly found time to practice. This was frustrating, and something had to be done to change this state I was in.
I had read about musicians who dedicated their lives learning in gurukulams and this fascinated me, and so much, that I quit my job in Intel, to dedicate myself to learning music for the next two years. I learnt from Pt. Venkatesh Godkhindi and later moved to a gurukulam in Chennai where I learnt under Vidwan Shashikiran.
It's been a long journey from then to Reboot, India's first audio film, which narrates the story of a techie through music — my creation. I won the Kannada International Music Award for the best male singer in the non-film category for this. I've since then recorded with the best in the industry, created The Bathroom Singers' Anthem, and created music videos for others. There's a lot that has happened in between and since then. And we can always talk about it when we meet! Or you can check www.sunilkoshy.com.
The point is that I have been through the same kind of trials and travails you have in my search for the kind of music I want. So I can help you overcome them better.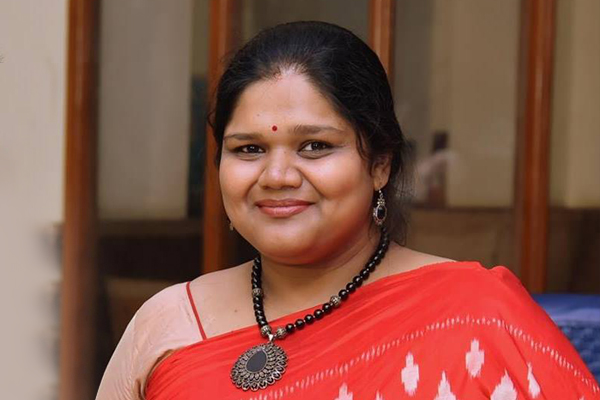 Archana Hallikeri
co-founders,
From Mug To Mike
Hi I'm Archana. Growing up, I sat through my mother's music classes, and I started learning classical music too. But there was always a fear – and I was scared to ask my teacher questions. I didn't know what to practise! I was lost in the sea of group learning. Moreover, in classical, making mistakes is unacceptable; being apaswara is a big taboo.
I believe that music lovers can be either singers or listeners. And I believe I began to fall into the listener and appreciator category.
Cut to my later years, when I met Sunil at Unisys, where we were both techies. Our love for music drew us together and Sunil often spoke of starting music workshops. But it was always a nebulous idea.
Very soon he got working seriously on Reboot, and he made me part of the creative team. I was spending all my weekends in the studio and learning what actually goes into making a song. I understood what a song could mean to a lyricist, a musician and a singer. Each one of us was eager to see how words blend with music and how the singing would build up the right emotion.
Being the silent spectator during recordings, I saw how some of our friends and acquaintances dreamt of recording a song in the studio, and at the same time expressed how late it is now and wished they had learnt singing.
All such discussions only made me think of the workshop in more clear terms, based on what people dreamt of, and aspired for. So 50 days after we were married, were all set to organise our first workshop. I now handle all aspects of the workshop and let Sunil concentrate on the music.