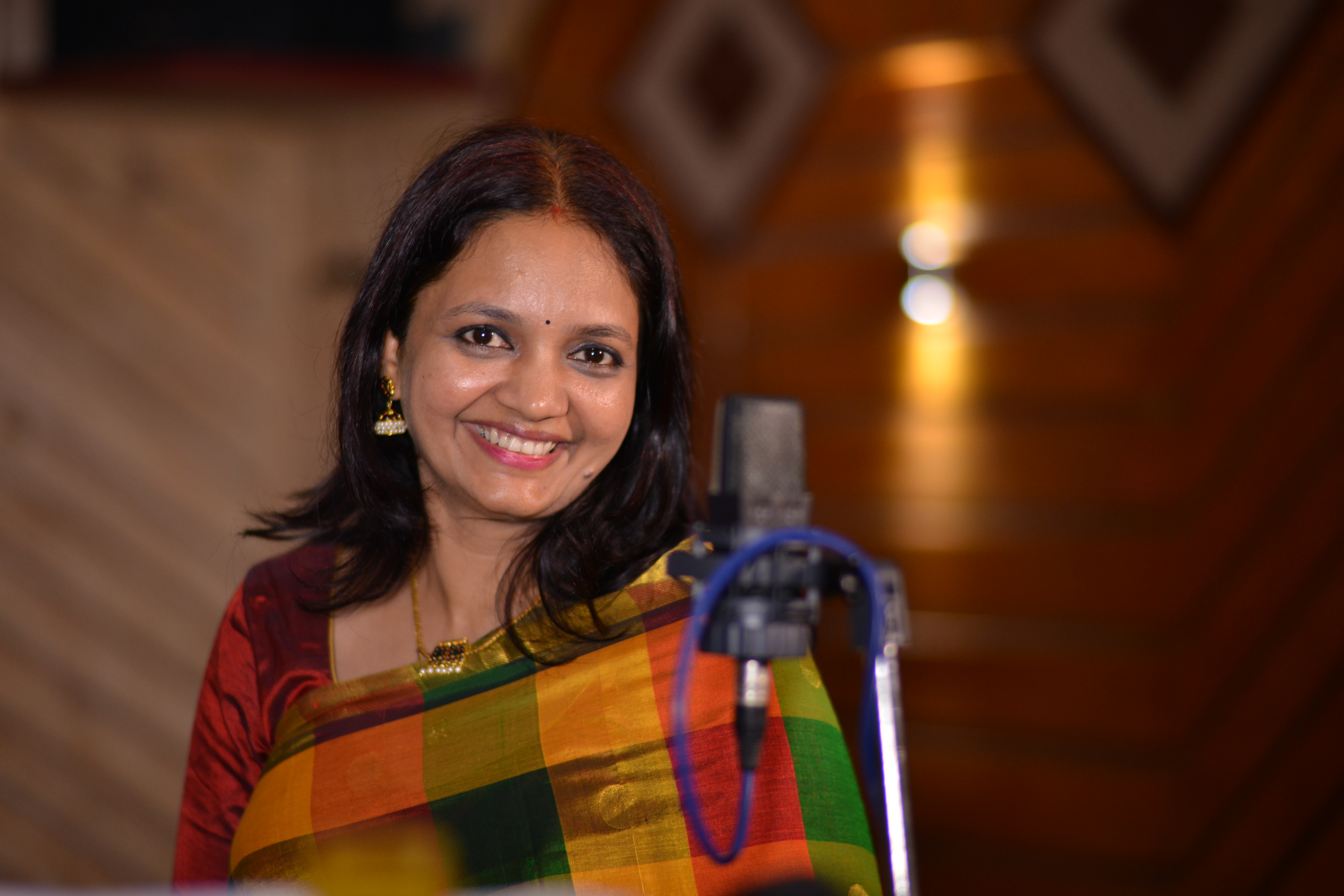 The Singing Banker – Rekha Arun
Rekha Arun is an Assistant Vice President in a leading bank in Bengaluru. She has a great passion for singing, and strikes a balance between work and singing.Rekha attended From Mug to Mike workshops and recently released an original music video – Sai Saptha Smaranam. This is an original song composed by Shahdaab-Koshy, recorded in Mumbai and shot in Bengaluru.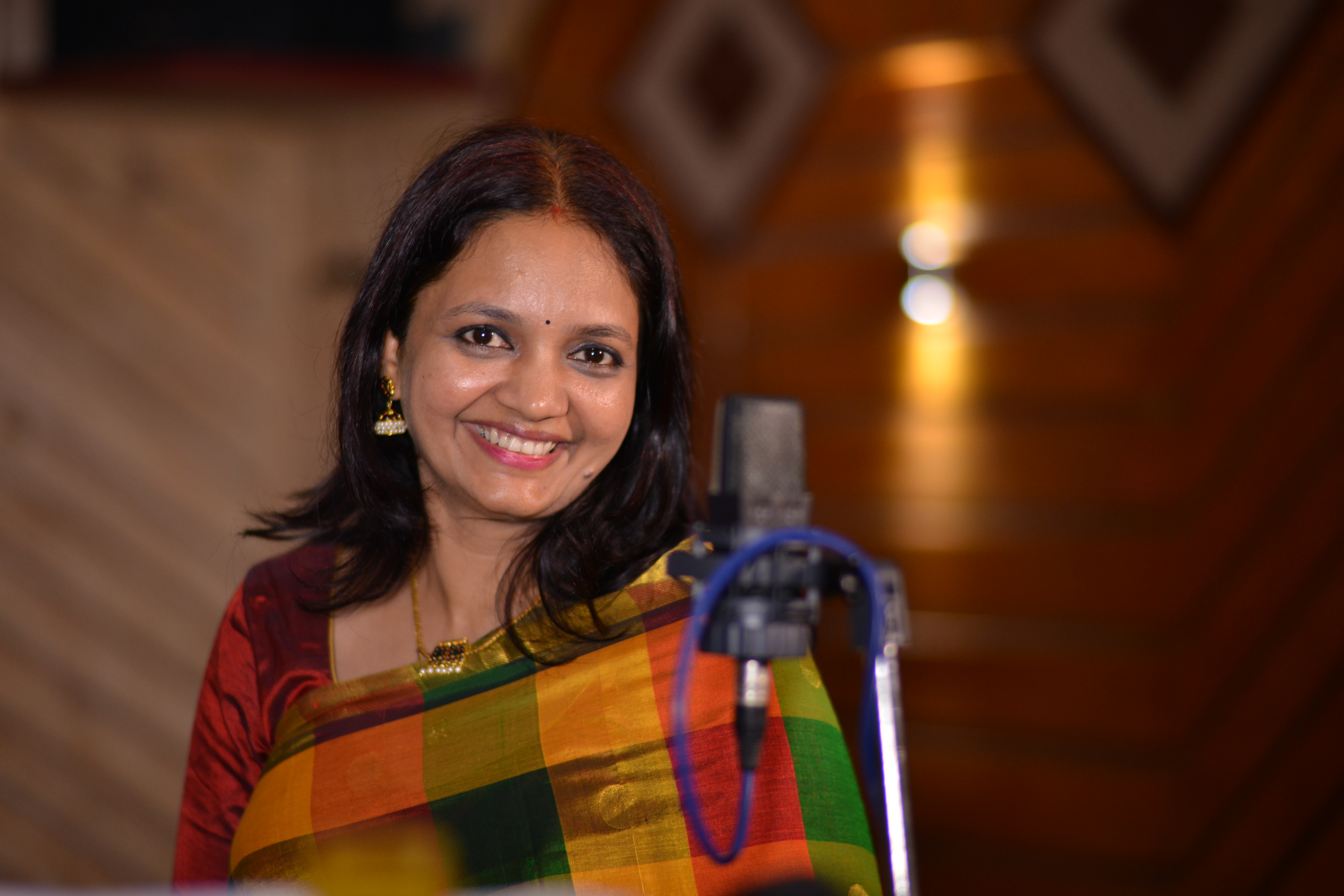 Firstly, congratulations on your first music album! I know you have received so many requests for the CD. And the first 1000 copies that were printed are already in the hands of Saibaba devotes and music lovers. It surely reflects the passion you have for music. Let me begin by asking you what does music mean to you?
Thank you! Really thrilled by the overwhelming response of Sai Saptha Smaranam. Music is my passion, my life, even if someone leaves u it doesn't ,it's my friend, philosopher, stress buster, my confidence. It has been with me since childhood, my mom, my brother, my aunties, my cousins are good singers but they did not have proper training and used to sing along during marriages functions.
Do you have any memories about your first performance?
My first performance, as I remember, on stage was at the age of 5 years and I had won a prize for Kannada poem.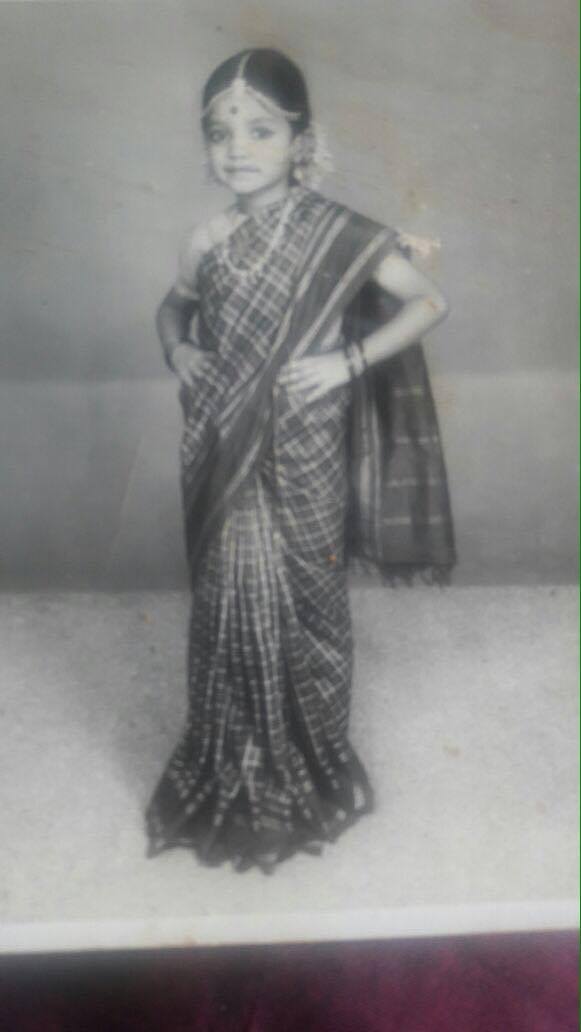 At the age of 4!
What kind of songs made you sing along in your childhood?
Being a Kannadiga, I loved to sing bhavageetha, folk songs, devarnamas , patriotic songs and film songs of great poets like Rastra Kavi Kuvempu, K S Narasimhaswamy. At the age of 7 years, I remember singing for AIR and we had recorded Kannada poems of Sri Kuvempu, music composed by Ratnamala Prakash.
In Hindi I am a fan of Lata Mangeshkar, Sadhana Sargam, Alka Yagnik, Kavitha Krishnamurthy, Shreya Ghoshal, K S Chitra, Susheelamma, Subbalakshmi, SPB, Sonu Nigam … oops! Many to go!
Hmm….quite a motley I must say. Any favorites from Childhood?
Subbulakshmi's Hanuman chalisa, Purandaradasa's devarnama, Mysore Ananthswamy's composition, Lataji's songs, Pallavi Arun's bhavageetha
Have you undergone any kind of training in singing?
Yes , have been learning classical vocal since child hood from a lot of gurus and at school, used to be the main singer during school prayer, group songs, culturals. Some of the major gurus in my life for classical are Kalavathy, Gayithri, vidwan Padma, Srivatsan and Paramakudi Ravindran.
In light music, I have got trained from Narahari Dixit and Upasana Mohan workshops.
For more technical and professional training, I attended From Mug to Mike workshops. Ashish Srivastava, my co-singer in this venture helped me with tips for singing film songs.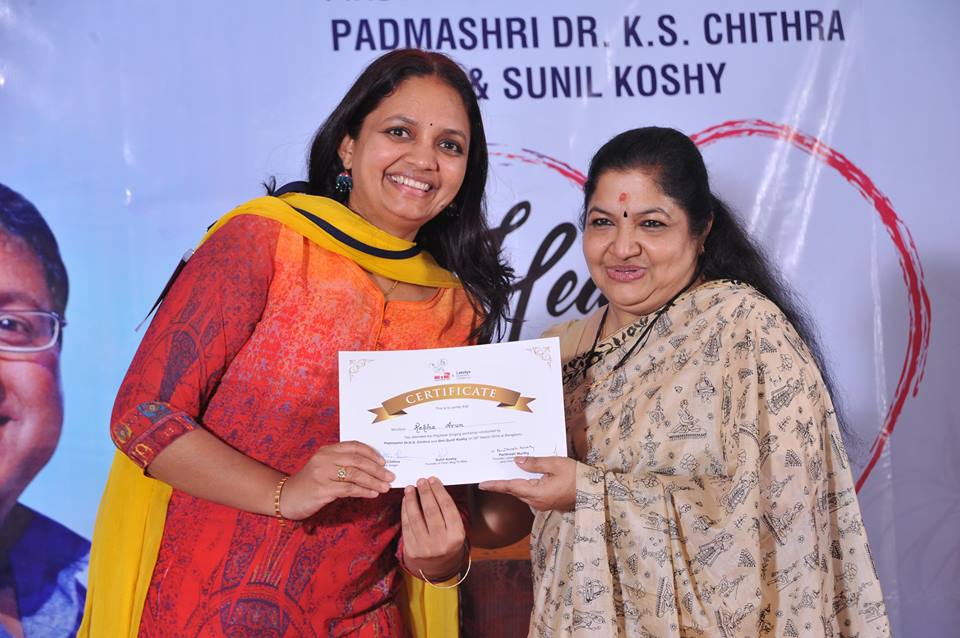 At the Workshop with Dr.K.S.Chithra and Mr.Sunil Koshy
How did you get to know about From Mug To Mike?
Through a family friend, Balaji Vittal who had invited me to the From Mug to Mike Season 4 stage show.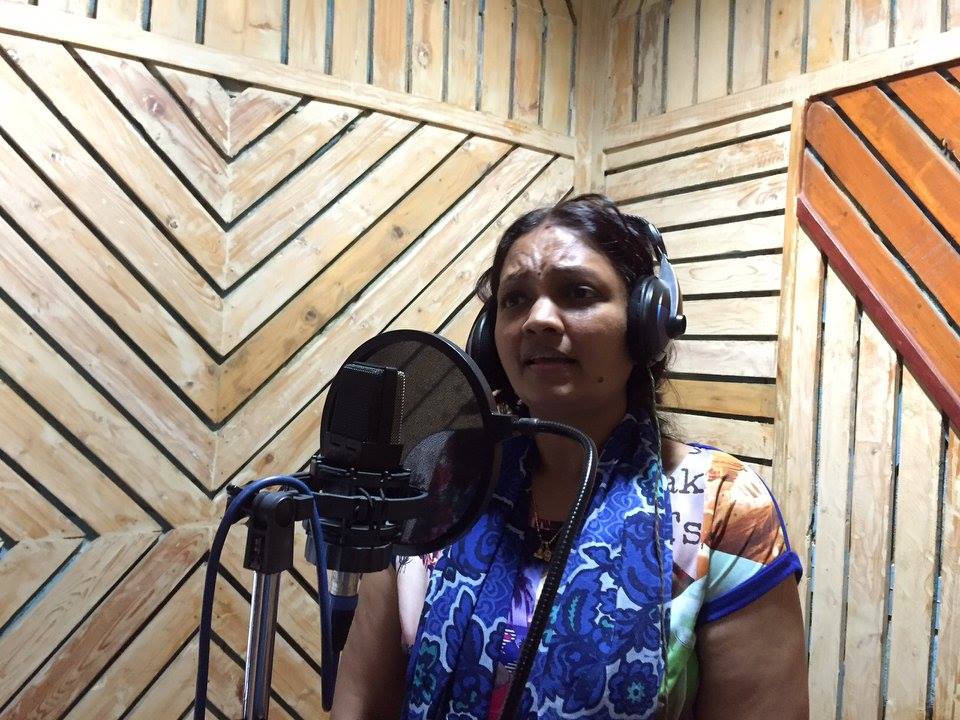 At From Mug To Mike Level One Workshop
The main highlight of Sai Saptha Smaranam is singing his praises in Seven Languages. What motivated you to do this?
My devotion for Sai Baba, and the guidance of From Mug to Mike. The urge to do something different and in different languages to reach out to a huge audience. I have lived and worked across south India, so am well versed in Kannada, Hindi, Tamil, Telugu, but the other languages were more difficult and I took up the challenge to sing in Marathi, Bengali and Hindi too!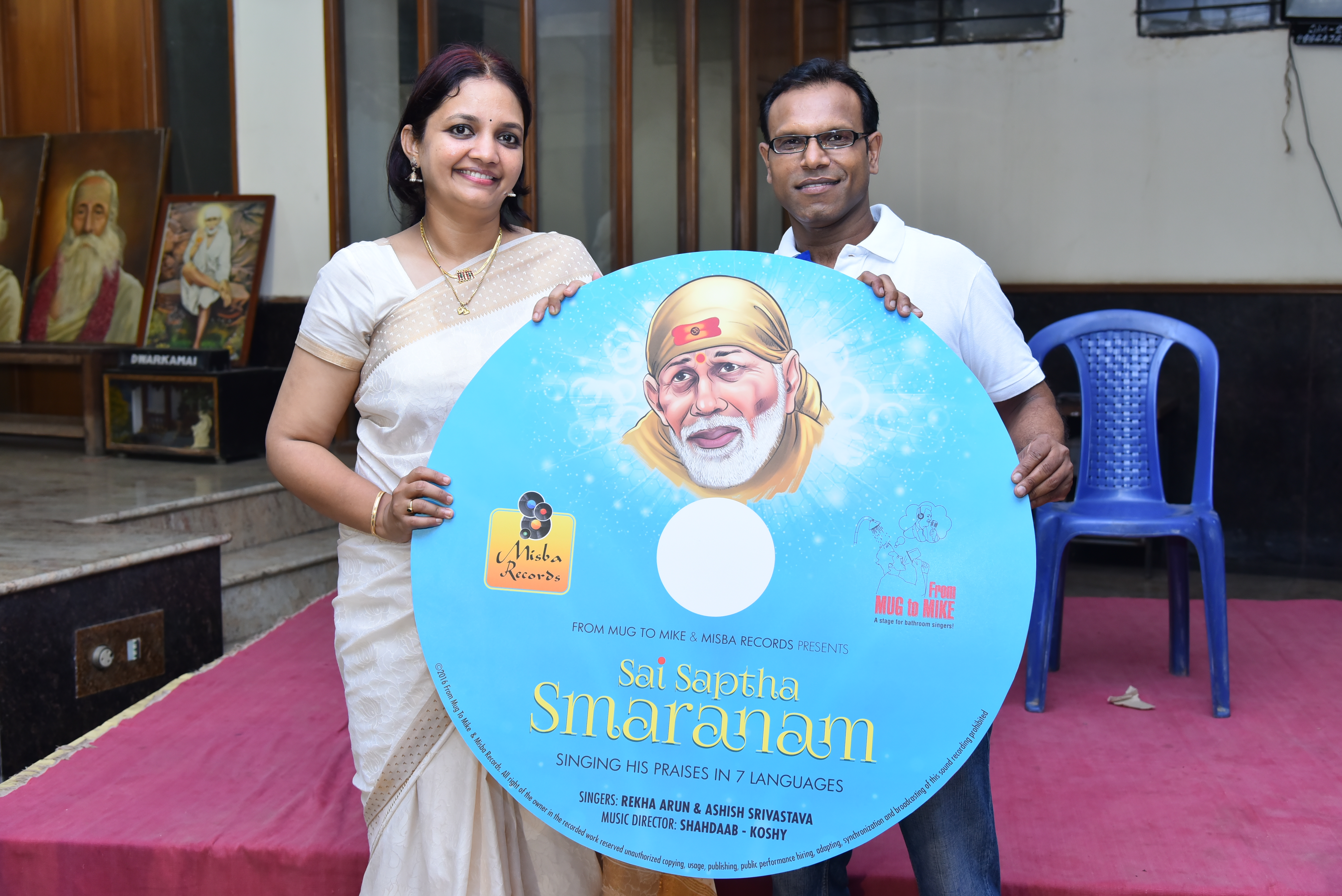 With co-singer Ashish Srivastava
How did you prepare yourself for this music album?
My profession demands a lot of time and dedication. So I had to manage office and practice. Since it was a new tune and new lyrics in 7 languages, I had to practice a lot trying to master the tune with emotions and at the same time, pronounce the lyrics correctly. Sometime, I used to wake up in the midnight and write the lyrics 5 times. At times, I would sit till late nights or early mornings, I have even cried so many times when i could not get the proper bhaava and sing. Range was a big challenge for me as professional singing was my first experience used to practice swaras at higher notes to get the range.
How did your family support you in your journey?
My Mom, Dad, kids and my in-laws and my boss Karthik were a great support and even my friends and relatives kept motivating me in every step, without which I couldn't have done this album.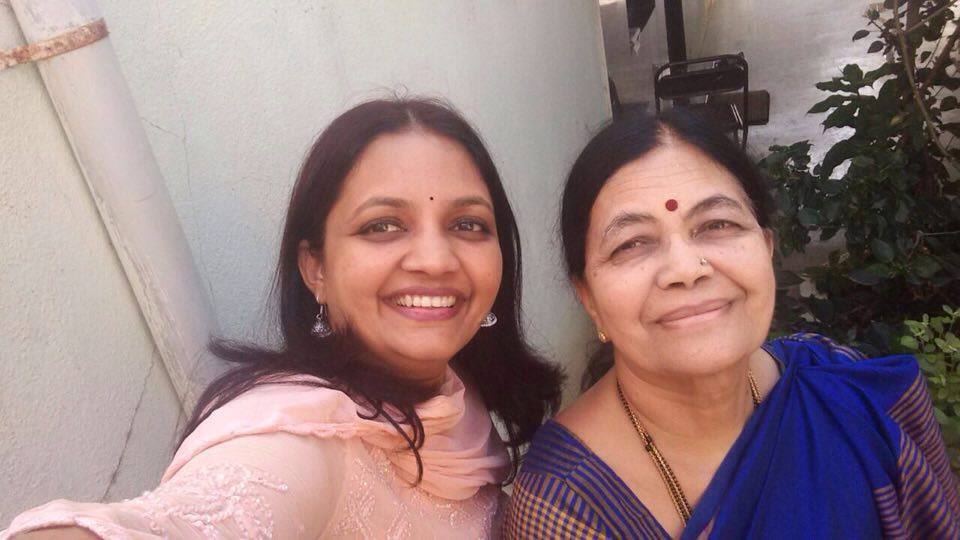 Her mother, her pillar of strength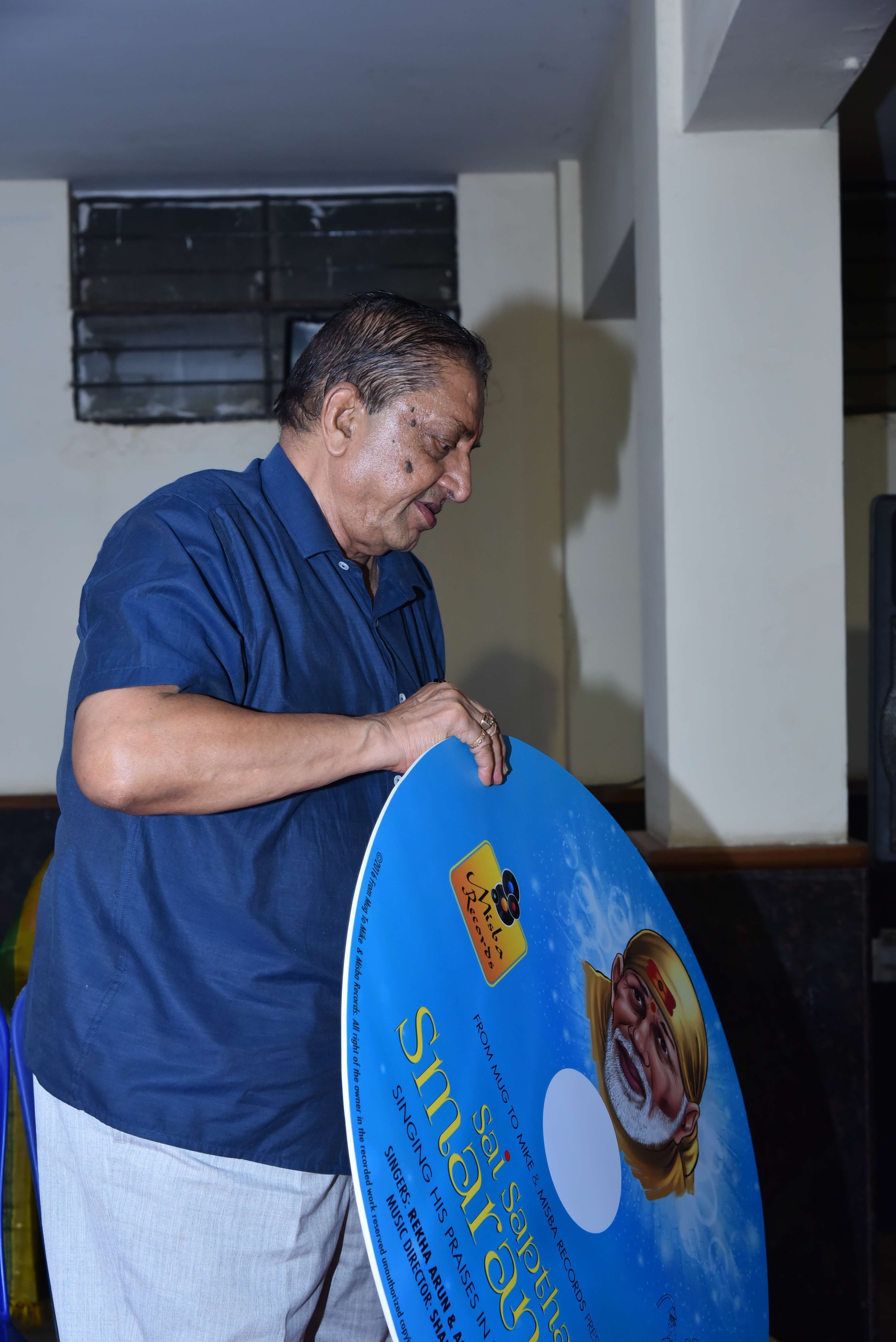 Proud father of Rekha at the launch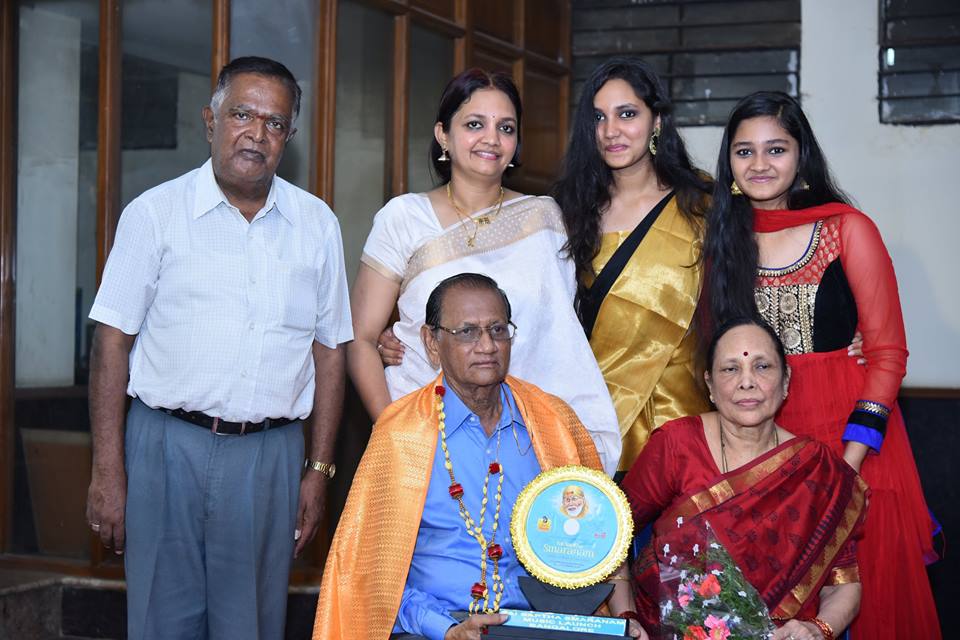 With her in-laws and daughters
During the launch I saw how your family came together to support you and how happy they were for you! What was the biggest challenge for you in this journey?
Singing in the different North Indian languages, finding time and place to practice, working on my vocal range, and also sometimes trying to make some people understand the need for doing and exploring something new at this age.
All your hard work has paid off! How does it feel to have made new fans through your album?
I really feel great and proud even when my housekeeping person and security people at office tell that my singing is great.
What is the major goal you have set for yourself in life?
My major goal is to complete my classical training till Vidwat and then open a music school, and also explore play back singing if i get a chance!
My best wishes to you! May you achieve more and more.
Now few quick things about your favorites.
Color – Black, red, blue and green
Movie – Old movies of Rajesh Khanna and Dev Anand. My favourite onscreen pair is Sharukh Khan-Kajol
Food – simple food and snacks like masala dosa, potato bun, honey cake , akki roti , North Indian rotis.
Holiday destination – am a simple person who wants to explore every place in India.
The song that is always playing in your head– Lag ja gale , Aap ki nazron ne samjha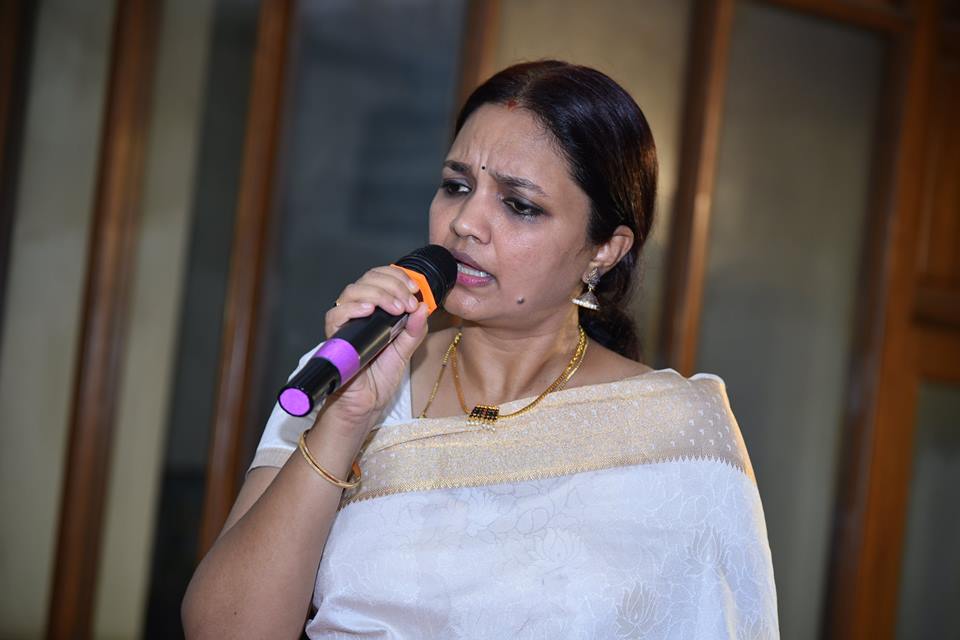 Wishing Rekha Arun a Very Happy Musical Journey!
Interviewed by Archana Hallikeri
Please follow our website and facebook page for details on the online launch of Sai Saptha Smaranam
To own a copy of Sai Saptha Swaranam drop an email at: tunear1771@gmail.com ( CD Not for Sale)
To view pictures from Sai Saptha Smaranam Music Launch: Click Here