We all love singing in the bathroom and the sound of our voice booming in that space. Of course, we all like to believe that we're actually singing in a studio. You have held the mug and sung into it at some point in your life, haven't you? Well, now we'll handhold you to take you in front of a mike now.
For us, a bathroom singer doesn't mean someone who simply sings in a bathroom. Its someone who likes singing but doesn't know where to start. You might get the confidence to sing for your family, friends, at the office antakshari, or at the annual programme at your college or workplace. Or, better still, you may sing open heartedly for yourself.The idea of these workshops at FMTM is to light a spark, act as a catalyst for further learnings, and act as a bridge. It's a place where you can have your voice evaluated and have your questions answered.
If you like

numbers…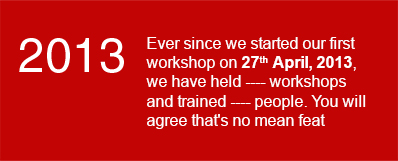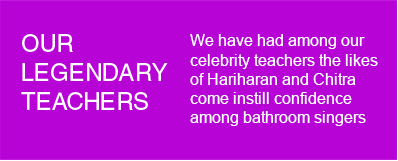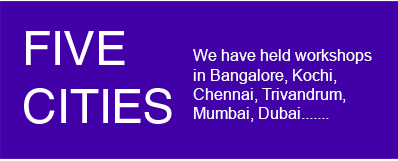 Who is

FMTM

for?

For any one who loves music. You could be five, or you could be 80, but if you have a love for singing, its never too early or too late to give it a good shot. For anyone who sings for the pure joy of singing. It's not a bad idea to just sing for yourself. We cannot stress enough that you DON'T need to be trained in music to be able to attend our workshops. We believe that if you develop your voice in the right way you can sing any kind of song over time. If you are here for the fun of it there's the freedom of of this workshop being a one-time thing.

Quickly answer these questions for yourself:

Do you want to learn singing but don't know where to start?
Do you want to sing, say a film song, but can't find a teacher for it?
Do you find a disconnect between what is currently being taught and what you want to learn?
Do you find that you don't have the time to learn classical music but don't want to give up singing entirely?
Or have you learnt music in childhood, discontinued and want to re-start again?
Do you dream of recording one song, just one, for the kick of the experience, in a studio, and then share it with your friends?
Do you believe there is a Kishore or Rafi, Lata or Asha in you when you are immersed in karaoke sessions?

If your answer is yes to even one or more of these questions, you have come to the right place.

At From Mug to Mike we have structured a series of three workshops, through which we channel our philosophy.